Please sign our Orgo Night petition!
Read below to learn what it's all about.
Click here to buy a fashionable Orgo Night t-shirt.
(Free expression never goes out of style.)
---
Orgo Night 1975, as reported by the New York Times.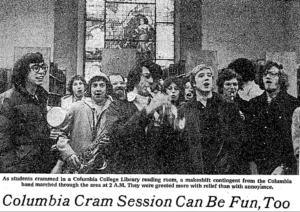 In December 2016, the University administration informed the Marching Band leadership that the long-running Orgo Night show in the College reading room in Butler Library would be prohibited. Although "library rules" were cited as the reason, we suspect that it didn't take the administration from 1975 to 2016 to discover that a band playing in the library at midnight was – albeit briefly – a violation. It was clear that the problem was, in fact, the occasional complaints by students who claimed to be offended by some of the Band's jokes. So much for free expression on campus.
Despite an outcry from our alumni and others, and attempts at negotiation by the current Marching Band leadership, the administration held to its position. The story captured the imagination of campus publications and beyond, with Spec, Bwog and some outside press reporting. It was cold – very cold – but the performance went on outside the building, with hundreds in attendance. In May 2017, once again, Orgo Night: Protest Edition was forced to remain outside the library. We are working with the Band and our extensive alumni base to get Orgo Night back to Butler. As part of our effort, we sent a letter to Columbia College Today, published in its Spring 2017 issue. You can read it at the bottom of the page here.
Under the name Hamiltonius, an alumnus who is not a former Band member created and distributed to University officials a series of pamphlets dissecting the Orgo Night issue. The full text can be found here.
In December 2017, band alumni delivered a petition signed by more than 700 people calling for Orgo Night to return to Butler Library. After no response from the administration, the Marching Band snuck into Butler Library and held Orgo Night inside 209, in defiance of the administration's edicts.
Feel free to share this information with your Columbia alumni friends and contacts. Please post a link to this page wherever you do such things, and urge your fellow alumni to sign our petition so that Low Library and Hamilton Hall will know that this issue will not quietly fade away. Mistakes can be fixed; we hope the administration will fix this one. Thank you for your continued support.
Click here to sign our Orgo Night petition.